The verdict on the Apple-Samsung lawsuit was delivered last Friday afternoon.  Many people are weighing in with verdicts on the verdict.  Some proclaim the end of innovation, others proclaim it is about to begin. Some try to pick the winners and losers beyond the obvious ones of Apple and Samsung.
The patent system has been praised and it has been pilloried. The list of subjects and narrative of the verdict will go on for quite awhile and make for some great reading.  Those who are fascinated by the epic battles being fought in the mobile world and the implications for consumers will have much to digest, debate and spin from their view of the world. I count myself as one of those who share this fascination.
For now though,  I am most fascinated by how Apple won over the jury. How did they get several human beings to vote for them?
I would argue that Apple did in court exactly what it does with its products.  Apple kept it very simple.  The legal team employed by Apple realized what Apple consistently realizes itself-you must tell a simple story if you are to convince anyone that your product is worthy of consideration.
In Apple's legal case they created a chart with three sections, moving from left to right (note: the direction we naturally read if we read English).  On the left they pictured several Samsung phones created prior to the introduction of iPhone, in the middle they placed a photo of the iPhone and on the right they displayed four Samsung phones created after the iPhone hit the market. (See below.)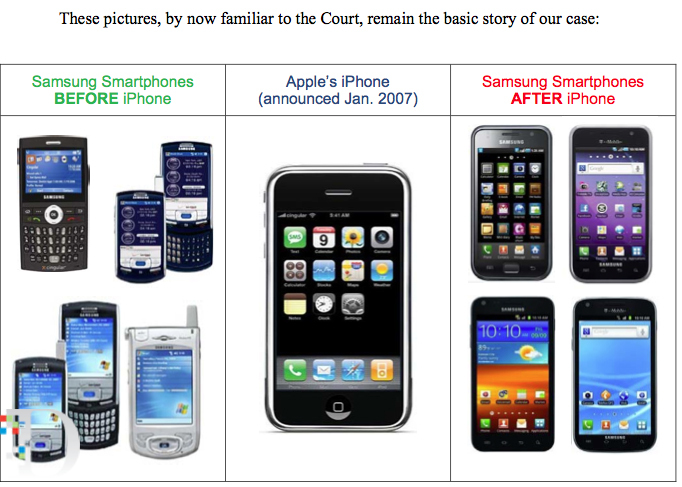 Image credit: AllThingsD
The visual story is simple. Before the iPhone, Samsung phones did not look at all like the iPhone, after the iPhone appeared in 2007, Samsung phones began to look just like the iPhone. Clearly Samsung had copied the iPhone. Why?  Because that is what your eyes told you!  A juror could quickly move her eyes from left to right and see the story for herself.
After all the complex patent assertions and rebuttals were heard, a plethora of devices  were shown and many abstract arguments were dissected, all a juror had to do was remember that chart. The Apple legal team made sure that the chart was frequently shown to the jurors at different parts of the trial, including the closing arguments.  We all know that repetition helps our memory.
Again what we see from Apple is the total dedication to simplicity even within the complex noise of a drawn out legal case.  Apple knows that simplicity is what drives human behavior and thought.  We crave it in our stories and in our lives.  We revel in it.  Give us a user interface that is easy to understand, give us a screen that we can command with our finger and yes, give us a story that has a beginning, a middle and end.
And best of all, tell it with pictures.